Vietnamese painter joins Japan art circle
(09-09-2005)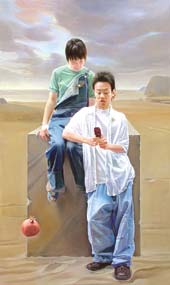 Innocence, oil on canvas by Nguyen Dinh Dang, is displayed at the Tokyo Metropolitant Art Museum.
HA NOI — Painter Nguyen Dinh Dang was again awarded the title of Fine-Work Artist by Japan's Shutai Art Association (SFAA), and this year was selected to become its first foreign member.
Dang was one of only 18 painters out of 165 to receive this recognition at the SFAA's 41th exhibition held at Tokyo Metropolitan Art Museum from September 1-16.
"This is actually an annual competition in which SFAA members vote for the best works in the exhibition," Dang explains.
Dang sent his work to SFAA three times since 2003 and won the title of Fine-Work Artist once before in 2003 but this time was invited to be a member of the association.
"I'm proud to be the first foreign member of the association but it won't affect my painting style," he said.
This year, 177 paintings by 165 artists were selected from 480 submitted works. The artists with the best works were named Kasaku Saka which means Fine-Work Artist.
The Vietnamese painter thought his paintings The Winter Ocean and Innocence impressed the Japanese artists as they break the Japanese stereotypes of Viet Nam.
"Many Japanese artists told me that before seeing my work when they imagined Viet Nam they thought of war and agricultural scenes with water buffalo and beautiful ladies in ao dai (traditional long dress)," he said.
Dang's paintings reflect a new reality. The painting Innocence for instance depicts two youngsters who represent the new generation.
"This innocent age is our future. The boy is my son. He's Vietnamese but also cosmopolitan, bilingual," Dang explains.
The 47 year-old artist, who earned a Ph.D and a Doctor of Sciences degrees in Physics and Mathematics in Moscow, is a self-taught painter. He is a member of the Viet Nam Fine Art Association.
He has been living in Japan since 1994 and works at the Institute of Physical and Chemical Research of Japan.
Dang's paintings are found in private collections in many European and Asian countries including Viet Nam, Indonesia, Austria and England.
The SFAA or Individual Artists' Association currently has 140 members and was established in 1964 to guarantee a place where artists could show their works freely. — VNS