<![if !vml]>

<![endif]>
________________
Speech by Mr. Michio Seki, former executive councilor of RIKEN,
at the opening party of "The Joy of Imagination – paintings by Nguyen Dinh Dang"
BiCE Tokyo, October 8, 2005
________________
              Good afternoon, ladies and gentlemen
              I would like to sincerely congratulate Mr. Dang on the occasion of his 2nd solo exhibition in Japan (*) at such wonderful place! As Mr. Visigalli has introduced you, I am Seki, who had been working in RIKEN for a long time. My job was to give a sort of assistance behind the scene to scientists.
              Dr. Dang was invited to RIKEN in 1994 by Dr. Akito Arima for scientific collaboration. An eminent nuclear physicist, Dr. Arima was the president of RIKEN at that time. After his retirement from RIKEN, he became minister of Education, Science and Technology of Japan.
              I guess that around 1995, after settling in Japan, Mr. Dang made up his mind firmly that he would become an artist in parallel with his career as a physicist. If my guess is true, this year is then the 10th anniversary. In this sense, I think the present solo exhibition has a particular meaning for Mr, Dang as a professional artist.
              When I received this invitation postcard with the exhibition's title "The joy of imagination",  I was very much interested in the painting "The Winter Ocean" printed on it as it tells us the life of Dang - artist.
              In the center of this picture, the artist's mother, an excellent medical doctor, is nursing his father, who has been struggling with the deteriorating condition of his health. The scenes in the background must be the distant past, when they first met each other, then spent their youthful and joyful days as students in Paris several decades ago.
              His father, who was a high-school teacher of mathematics, was very fond of drawing. He often drew varieties of images on the blackboard at their house in Hanoi, and the boy Dang was strongly impressed by them. Dang nurtured a dream to become an artist and began to study drawing.
              Since then, the boy had been enthusiastically learning painting by himself just as a naked kid learning how to walk. About forty years later, this boy became a professional artist. I'm now imagining that, on the 10th anniversary after he became an artist, Mr. Dang created this painting with his deep thought of his old father, who had given him a starting push into the life of an artist.
              Floating objects, transparent colors, immense space, and in particular, depths of time are few features of Dang's paintings, which always amaze me. From time to time, he made the images of his beloved wife, Mai, and their only child, Dong, appear on the canvases. His works span a variety of genres and usually have stories underneath. They wake up our imagination. They impress spectators endlessly. Also today, I came here to have such a wonderful feeling.
              In conclusion, let me say few words to the artist. Mr. Dang, I hope you will go on to break a new ground as only you can, just as you had done as a nuclear physicist and an artist, in your own world, which is different even from that of Salvador Dali or Vermeer, the world of Nguyen Dinh Dang. 
              Thank you.
_______________________
(*) Actually this is the 4th solo exhibition by N. Dinh Dang held in Japan. See http://ribf.riken.go.jp/~dang/page4.html
(translation from the original Japanese by Mr. M. Seki)
<![if !vml]>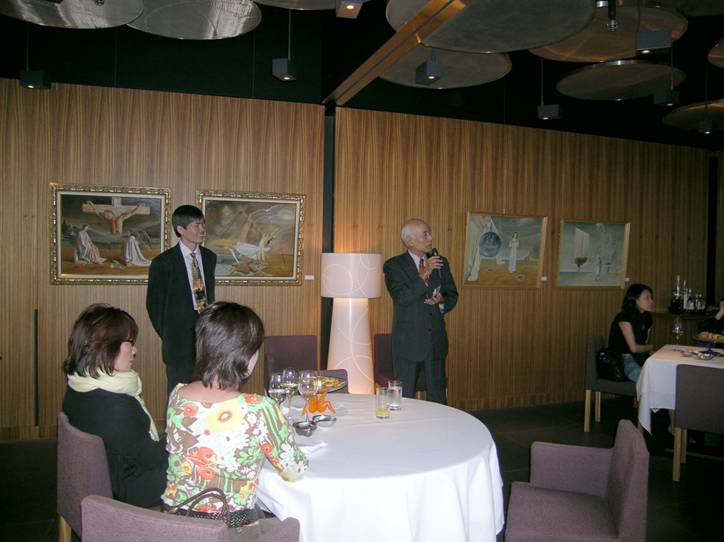 <![endif]>