Considering Vietnam's modern history, it is hardly surprising that about a third of the exhibits in "50 years of Modern Vietnamese Paintings: 1925-75" at Tokyo Station Gallery depict warfare and soldiers in uniform, or are propaganda images fashioned from the odds and ends of figurative painting. Here, the art is very much a mirror reflecting national experience and history.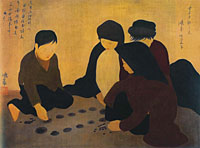 Nguyen Phan Chanh's "To Play o an Quan" (1931) PHOTOS COURTESY OF TOKYO STATION GALLERY
Vietnam had virtually no tradition of painting before France's colonial rule began. The introduction of Western painting initially resulted in modernistic bourgeois scenes that mingled international techniques and Vietnamese subject matter.
Such images soon gave way to war representations, as anti-French sentiment began to dominate cultural life. Then, from the explicit patriotism embodied in these works, Vietnamese art moved to government-sponsored Social Realism representing the local communist ideologies that took root in the mid-20th century.
Western art, considered "capitalist," then became off limits, and a different kind of war raged, this one against Western "cultural pollution." Only when communist influence waned in the early 1980s did an increasingly liberated Vietnamese art world start to again realign itself with the international one.
The beginnings of Vietnam's modern art were altogether more affable, taking shape from 1925-45 during the final stages of French rule. Established in 1925 in Hanoi, the Ecole des Beaux-Arts de l'Indochine taught Western art techniques and graduated Vietnamese luminaries such as Bui Xuan Phai, Le Pho, Nguyen Phan Chanh and others who came to be known as the Paris School of Vietnam.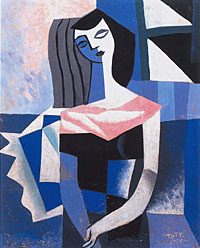 Ta Ty's "Woman" (1950)
The painter, teacher and Asian scholar Victor Tardieu was the art school's director, and his presence in Vietnam was due to him winning the Indochina Prize of 1920 -- an award given by the Societe Coloniale des Artistes Francais to artists exhibiting in the yearly Paris Salon. Observing that colonial conditions had eroded local craft traditions, Tardieu fitted them to a Western art curriculum, and silk painting became a genre of Vietnamese modernism. Its most revered exponent, Nguyen Phan Chanh, in his representative work, 1931's "To Play o an Quan (To Play Marbles)," took the medium up at the behest of Tardieu, who was somewhat withering about Phan Chanh's lack of facility in the oil medium.
So local traditions were reconfigured by the French, creating a modern cultural identity for the Vietnamese. Lacquer painting went the same way, due largely to efforts by Joseph Inguimberty, who added the medium to the ecole's art curriculum from 1927.
Inguimberty's paintings were mildly Impressionist, and his "Studio" from 1933 is the only nude in the exhibition -- after the 1945 August Revolution no nudes were publically displayed in the country till 1982. Under the nationalist independence movement and the socialism that overtook the country from 1945 and restricted the artistic repertory, the naked female form was considered an indulgent, even subversive, subject.
Mid-century developments in painting, spurred by Ho Chi Minh's policies promoting cultural, political and economic independence, saw the country's art harnessed to serve social purposes. Hence those early, French-inspired themes came to be regarded as bourgeois affectation.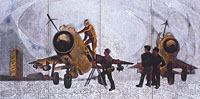 Duong Vien's "Belief" (1980)
However, a more urgent project was to insert political messages into art, so that painting could be enlisted to inspire patriotism -- as had happened in other communist countries.
When, in 1945, Ho Chi Minh, backed by China and the Soviet Union, declared the establishment of the Democratic Republic of Vietnam, the country divided in Cold War style. Following political necessity, art in the north embraced Social Realism and its usual subjects -- workers, factories and the military.
Meanwhile, with the establishment in 1949 of the State of Vietnam in the south, which was recognized by the United States and Britain, artists there engaged in an attenuated internationalism, due in part to the new American presence, but to the continuing popularity of French art. A good example is Ta Ty's "Woman" (1950) in Cubist style. His love for Western artists ultimately led to his disgrace among the victorious North Vietnamese after the battle for unification, and he was sent to a "re-education camp" in 1975 at the end of the Vietnam War.
The first generation of artists to graduate from the French art school arguably produced the best works in terms of pure paintings. With later works, it is difficult to see them as anything but compromised by their service to politics and propaganda.
An epilogue to the 50-year period examined here even provides a few paintings that truly belabor the political focus, as when Duong Vien represents two Mig-21 jets and optimistically titles the 1980 work "Belief."
When art bows down to politics, artists typically become cut off from the international art world, victims of their own lack of purity, their self-referentiality and their stilted subject matter. So the fundamental disagreements between Modernist principles and Social Realism unfortunately constitute the essence of Vietnam's formative painting years.
That said, this exhibition is likely the best primer on the origins of the current flourishing of Vietnamese arts that I can think of. Following "Doi moi" reforms initiated in 1986, the liberalization of Vietnam and its intended comprehensive transformation have nurtured a dynamic and opportunistic art world -- those within the country have even taken to calling themselves the "art center of Asia." And with an international audience warming to their hybrid style, they may be on to something.